Why Treat Adenomyosis?
Adenomyosis is essentially thickening of the lining of the uterus, the endometrium. The endometrium thickens and grows into the muscle of the uterus.
1
 During the menstrual cycle the normal lining and the overgrowth causes excessive bleeding. Furthermore, the bleeding of the abnormal growth occurs directly into the muscle, which causes pain. This blood accumulated in the muscle causing swelling, irritation and cyst formation over time. This can affect your entire uterus or it can be localized to one area. If you are suffering from adenomyosis, a hysterectomy is not your only option, 
there is a non-surgical treatment available.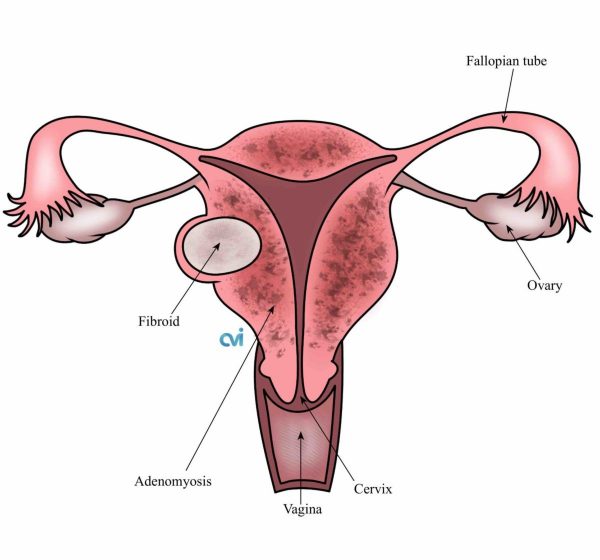 Adenomyosis is often misdiagnosed as fibroids, because it can have similar symptoms. While not every woman may have symptoms, for those that do these can vary and range in severity. Patients with adenomyosis can have pain that is usually worse than the bleeding, while patients with fibroids it is typically the opposite (bleeding is worse than the pain). Our specialist has years of experience treating patients with uterine fibroids and adenomyosis. Did you know the non-surgical UAE procedure treats both fibroids and adenomyosis in one session? Read more below.
Advantages of Non-Surgical Uterine Artery Embolization Treatment over Surgery:
What Causes Adenomyosis?
Some studies also suggest that women who have had prior uterine surgery may be at risk for adenomyosis. Though the cause of adenomyosis isn't known, studies have suggested that various hormones — including estrogen, progesterone, prolactin, and follicle-stimulating hormone — may trigger the condition.
Some potential causes include:
Inflammation during childbirth – Post-partum uterus may become inflamed causing a break of the inner lining of the uterus.
Invasive tissue growth – Invasion of endometrial cells into the uterus from incisions during surgery, such as a C-section.
Developmental – Deposited inadvertently while the uterus and other reproductive organs were forming in utero.
Hormone use – Estrogen and progesterone use may be a factor.
Diagnosing Adenomyosis
Previously the only definitive way to diagnose adenomyosis was to perform a hysterectomy and examine the uterine tissue under a microscope. However, imaging technology has made it possible for diagnosing adenomyosis without surgery. Transvaginal ultrasound (TVUS) and MRI are often utilized for the noninvasive diagnosis of adenomyosis.
2 
An ultrasound is good as an initial first study as it can help to rule out other conditions with similar symptoms; diagnosing adenomyosis can have limitation on this type of study. The best study is an MRI as it can best delineate the characteristics of adenomyosis from other conditions. If you are suffering from heavy pain menstrual cycles and have been left without a diagnosis, seek out our specialist to obtain the appropriate work up for your condition.
82%

after Non-Surgical UAE do not need a hysterectomy3
What is the Right Treatment for Adenomyosis?
For patients with adenomyosis there are several factors that will determine which course of treatment is the best, including age, medical history, risk factors and symptoms. Our specialist has treated many patients with adenomyosis, and this experience is important in making sure you have the best outcome. Conventional treatment with hysterectomy allows for definitive treatment however, medications and UAE are less invasive treatments that preserve the uterus and fertility.3
Symptom control: NSAIDs like Ibuprofen or Naproxen may help manage painful symptoms however this does not treat the underlying cause. Birth control pills or a hormone-releasing IUD can help control heavy periods. However, as with anti-inflammatory medications, this does not treat the underlying cause. Many of these options do not provide cotinued improvement and are limited by their menopausal-like side effects as well as inability to conceive.1
Non-Surgical Uterine Artery Embolization (UAE): This is an effective non-surgical treatment that can reduce or eliminate your symptoms by addressing the core root of the problem. Uterine artery embolization is a non-surgical procedure that is outpatient with minimal downtime. In fact, most of our patients are back to normal activity after only one week.
Adenomyomectomy: Focal resection is a surgical option for those with focal adenomyosis limited to a region of the uterus. 75% of women experienced symptom relief with this limited surgical treatment.4
Hysterectomy: This is the gold standard and permanent solution for adenomyosis for some patients.1 But surgery comes with drawbacks when there are non-surgical options available. Major surgery involves a number of risks such as excessive bleeding, blood clots, infection, and an adverse reaction to general anesthesia. Removing the uterus also results in infertility, which is not an option for those wanting to maintain fertility. Hysterectomy requires a one- to two-day hospital stay, followed by a lengthy recovery of six to eight weeks. During this time, your overall activity, along with your ability to drive safely while on pain medications, will be limited. Interestingly, pelvic pain is not necessarily eliminated in patients who undergo hysterectomy for adenomyosis, in one study nearly one-quarter of patients continued to have pelvic pain after hysterectomy.5
The key to choosing the right treatment for adenomyosis is obtaining the correct diagnosis and understanding your treatment options. Asking questions and being informed will help ensure that you obtain the best care for you.
Our specialist at CVI has years of experience in the treatment of both uterine fibroids and adenomyosis. He will partner with you to determine the best course of treatment.
What is Non-Surgical Uterine Artery Embolization (UAE)?
Uterine artery embolization, or UAE, is a non-surgical image-guided procedure that effectively treats adenomyosis (and fibroids) in one treatment. This is done by placing a tiny catheter into the uterine artery and blocking the blood flow to the abnormal lining using tiny beads (see video below).
Uterine embolization can be performed as an outpatient procedure through a tiny pinhole in the skin, resulting in faster return to work and minimal risk (after 30 days) when compared to having a hysterectomy.6 UFE is also done with local and moderate IV sedation, avoiding the risks of general anesthesia. What kind of facility can the UAE procedure be performed at? Read here.
Our outpatient center sees patients throughout Southern California including Los Angeles, Orange County and San Diego. The UAE treatment is performed by our Endovascular Physician (an Interventional Radiologist) who is board certified in image-guided procedures using X-rays, tiny catheters and other micro-tools, and has performed hundreds of complex embolizations with special interest in fibroid treatments.
What is Interventional Radiology? This is the only specialty in medicine specifically trained to perform embolization procedures, such as for symptomatic fibroids. Read more here.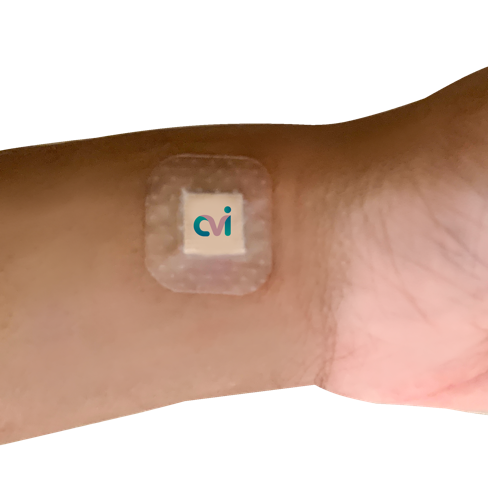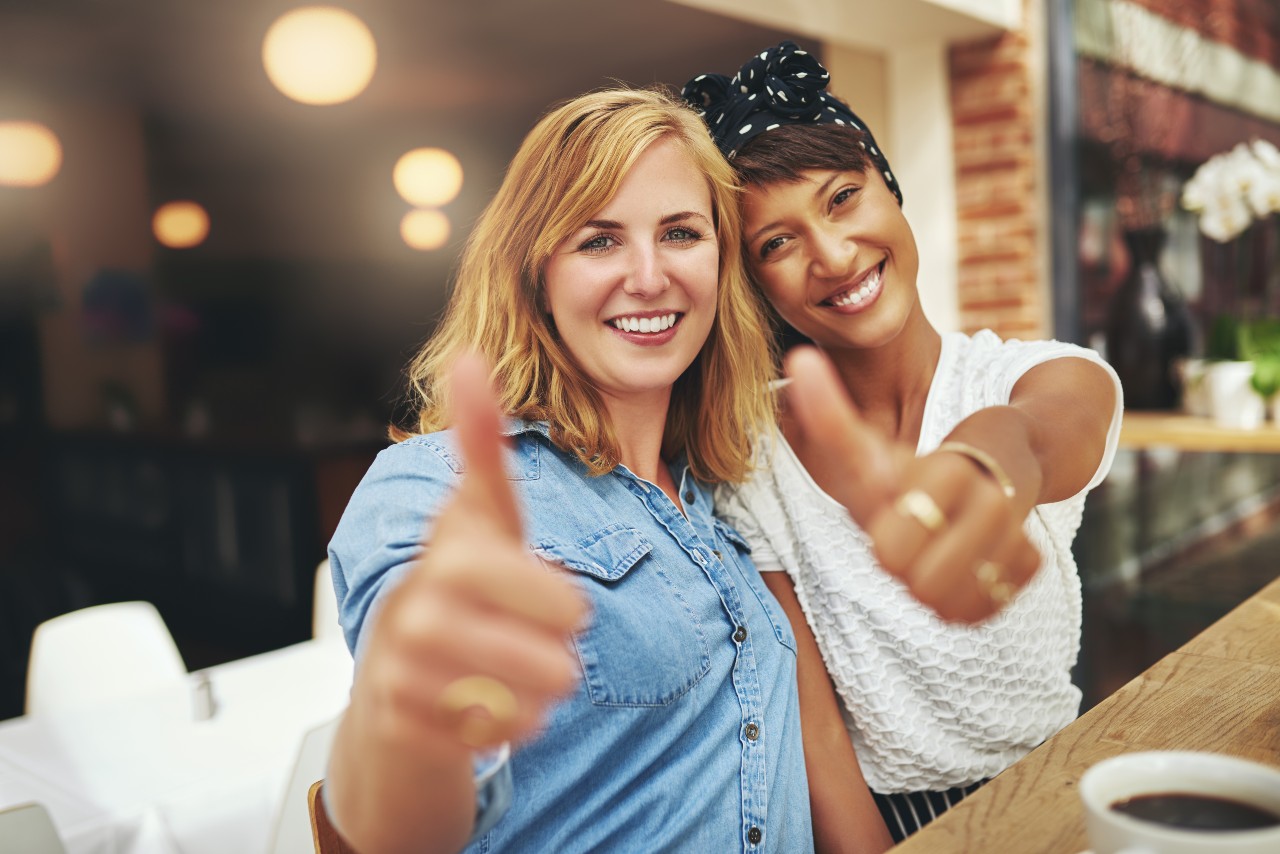 Please note that although we strive to protect and secure our online communications, and use the security measures detailed in our Privacy Policy to protect your information, no data transmitted over the Internet can be guaranteed to be completely secure and no security measures are perfect or impenetrable. If you would like to transmit sensitive information to us, please contact us, without including the sensitive information, to arrange a more secure means of communication. By submitting this form you consent to receive text messages from CVI at the number provided. Msg & data rates may apply. Msg frequency varies. Unsubscribe at any time by replying STOP.
Am I a Candidate for Uterine Artery Embolization?
If you have adenomyosis with the following symptoms you may be a candidate for uterine embolization:
Painful periods
Heavy bleeding during or in between your periods
Abdominal pressure and bloating
Pain during intercourse
Blood clots during menstruation
Anemia
Enlarged Uterus
What do you need to do next? Request a consultation to meet with our embolization doctor who will review your imaging, labs and history to determine if you are candidate for the procedure, and the outcomes you can expect. Each woman is an individual and should discuss the potential risks and benefits of fibroid embolization and other treatments with our doctor to decide which option is best for her.
Consultations are available via an online video telehealth platform or in person at one of the offices in Los Angeles, Orange County or San Diego.  Why should you choose us? Read here.
What to Expect From Non-Surgical UAE 
Uterine artery embolization is an outpatient non-surgical procedure with minimal downtime. The procedure is done in an outpatient state of the art center where our interventional radiologist performs the adenomyosis treatment through a tiny tube called a catheter. This procedure can be performed by either placing the catheter in an artery at the top of the leg (called a femoral approach) or by placing it into an artery in the lower arm (called a radial approach).  The two methods are illustrated below: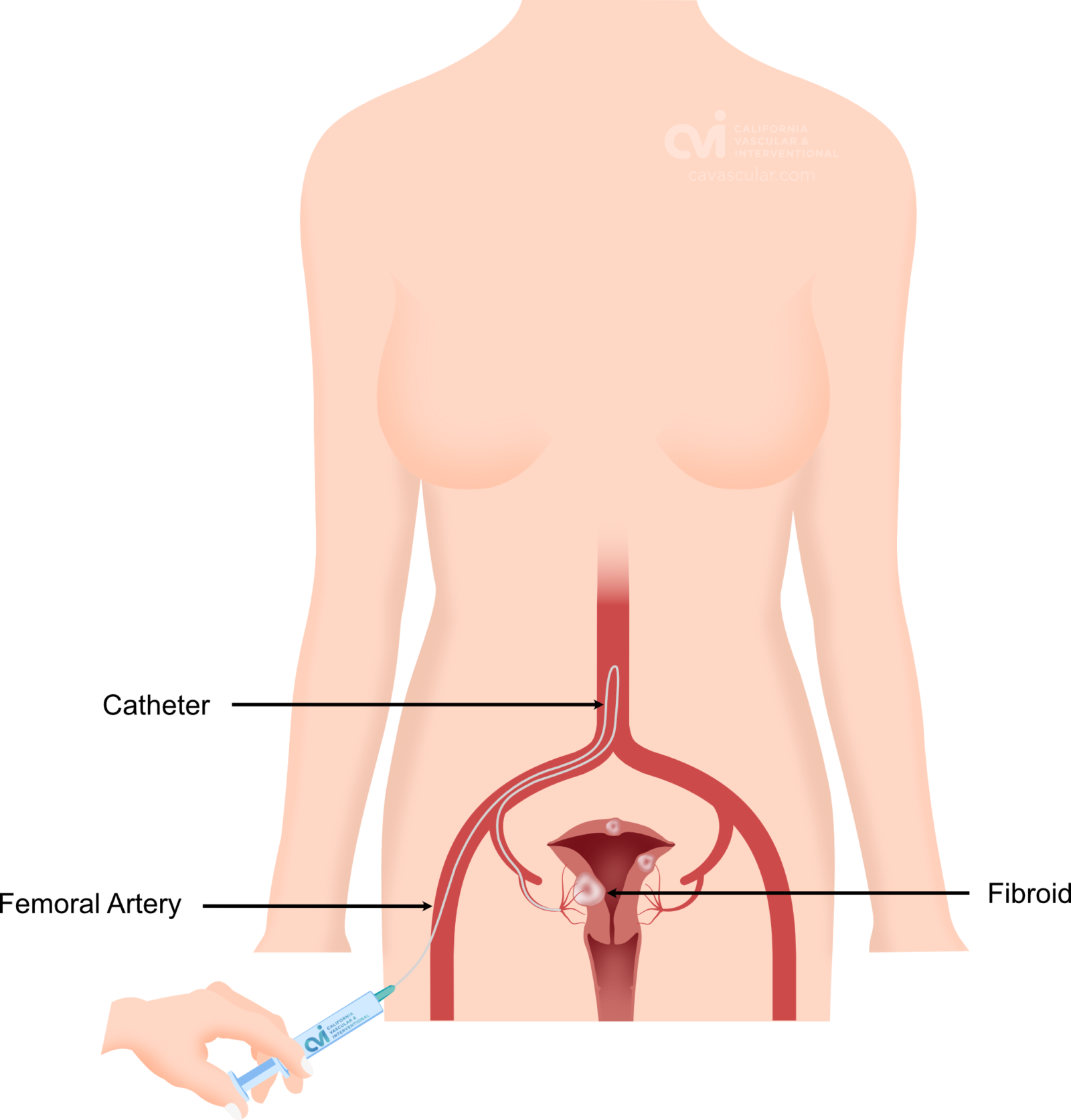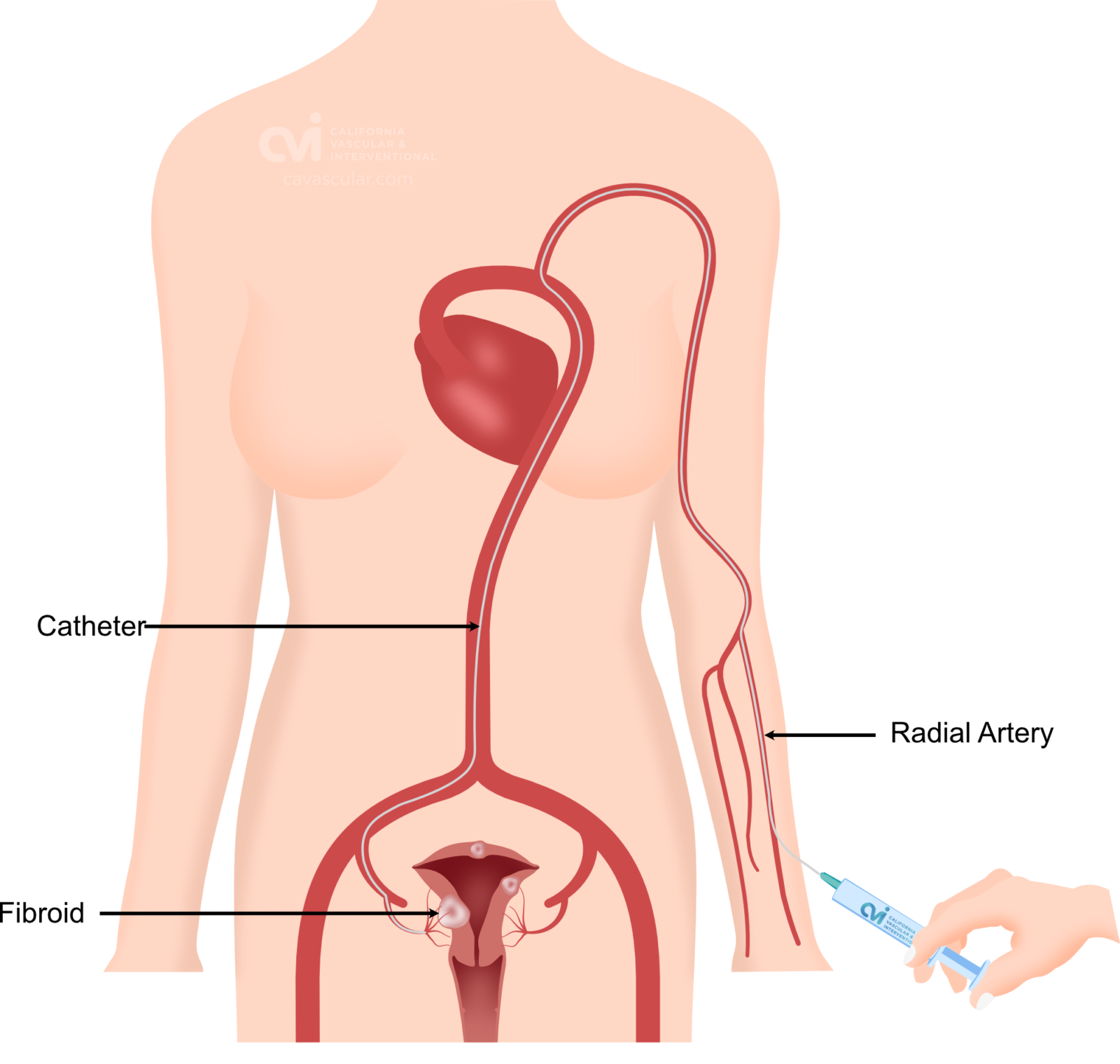 The patient is given a local and topical anesthetic to numb the skin and a mild sedative, so that the procedure is not painful. A sophisticated X-ray machine that creates moving pictures in "real" time enables the doctor to see the catheter as it is guided through the blood vessels and into the uterine artery. The final step in fibroid embolization is the injection of tiny particles the size of sand particles through the catheter. The particles lodge in the blood vessels feeding the uterine lining and cut off their blood supply, but the uterus is largely spared.
UAE Results
UAE presents a useful option for those who wish to avoid hysterectomy and prefer a minimally invasive technique without a hospital stay. 83.1% of patients who underwent UAE for adenomyosis demonstrated overall symptom improvement and 82% in a 7 year follow-up study were able to avoid a hysterectomy.
3,7
 Previous studies have also shown favorable outcomes with symptom relief after UAE for adenomyosis, however recurrence rates are higher than for the treatment of fibroids but offers symptom relief in over two-thirds of patients and is uterine sparing.
8
Why California Fibroid Center?
At CVI, we provide devoted and specialized care for embolization. All clinical decisions are centered on the patient because CVI is owned and controlled by our physician, who is an embolization expert. The doctor has the freedom to spend as much time as needed for patient consultations and medical procedures. Clinical decisions are made based on what is best for you and your treatment, and not influenced by the interests of a profit-driven hedge fund company. The staff are highly trained and dedicated to the patient experience. This allows us to provide the best care and experience for our patients. Women continue to be thrilled with the totality of their care experience facilitated by our patient-centered approach. 
Read more about our practice here.
Patient Centered. Dedicated. Comprehensive.
We are Here to Help
Request a consultation
 to meet with our UAE specialist who will review your imaging, labs and history to determine if you are candidate for the procedure, and the outcomes you can expect. Each woman is an individual and should discuss the potential risks and benefits of fibroid embolization and other treatments with our doctor to decide which option is best for her. Consultations are available via an online video telehealth platform or in person at one of the offices in Los Angeles, Orange County or San Diego.
Why should you choose us? Read here.
1.) Struble J, Reid S, Bedaiwy MA. Adenomyosis: a clinical review of a challenging gynecologic condition. J Minim Invasive Gynecol. 2016;23:164-185.
2.) Agostinho L, Cruz R, Osório F, et al. MRI for adenomyosis: a pictorial review [published online October 4, 2017]. Insights Imaging.
3.) de Bruijn AM, Smink M, Hehenkamp WJK, Nijenhuis RJ, Smeets AJ, Boekkooi F, Reuwer PJHM, Van Rooij WJ, Lohle PNM. Uterine Artery Embolization for Symptomatic Adenomyosis: 7-Year Clinical Follow-up Using UFS-Qol Questionnaire. Cardiovasc Intervent Radiol. 2017 Sep;40(9):1344-1350. doi: 10.1007/s00270-017-1686-1. Epub 2017 May 17.
4.) Younes G, Tulandi T. Conservative surgery for adenomyosis and results: a systematic review [published online July 21, 2017]. J Minim Invasive Gynecol.
5.) Stovall TG, Ling FW, Crawford DA. Hysterectomy for chronic pelvic pain of presumed uterine etiology. Obstet Gynecol. 1990;75:676-679.
6.) Spies J et al. Outcome of uterine embolization and hysterectomy for leiomyomas: results of a multicenter study. American Journal of Obstetrics & Gynecology 2004;191: 22-31.
7.) de Bruijn AM, Smink M, Lohle, PNM, et al. Uterine artery embolization for the treatment of adenomyosis: a systematic review and meta-analysis [published online October 9, 2017]. J Vasc Interv Radiol.
8.) Popovic M, Puchner S, Berzaczy D, et al. Uterine artery embolization for the treatment of adenomyosis: a review. J Vasc Interv Radiol 2011;22:901-909.
The above information explains what is involved and the possible risks. It is not meant to be a substitute for informed discussion between you and your doctor, but can act as a starting point for such a discussion.