Fibroids and Infertility
Many women achieve a normal pregnancy despite uterine fibroids, but for others fibroids can impact their fertility. 2.4% of women with infertility only have uterine fibroids without any other cause.1 If you have pregnancy challenges with fibroids, an effective fibroid treatment could increase your pregnancy chances.
Fibroid come in different numbers, sizes and locations. This combination of factors will have a profound effect on your ability to conceive and carry a fetus to term.   
Which Fibroid affect Fertility?
The location of the fibroid can impact the success of pregnancy. A submucosal fibroid that is underneath the lining of the uterus can distort the site of implantation. An intramural fibroid that is in the muscle of the uterus can similarly distort the endometrium. A fibroid that is located near the cervix can alter its shape affecting the ability of sperm to enter the uterine cavity, preventing fertilization. 
The size and number of fibroids can also impact pregnancy success. A large fibroid that creates pressure in the pelvis can push and prevent the ability of the fallopian tube to deliver the egg.1,2 Multiple large fibroids can decrease the uterine space required for embryo development. Since fibroids are very vascular, they can steal the blood flow away from the uterine lining and embryo, causing a miscarriage.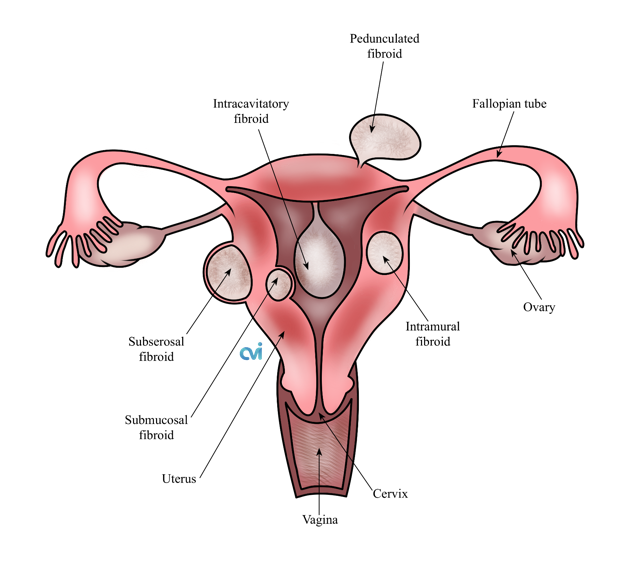 Fibroids and Pregnancy Risks1,3
C-Section risks higher
Increased pelvic pain during pregnancy
Miscarriage risk
Bleeding during and after pregnancy
Positioning of the baby can be affected (malpresentation)
Fibroid growth during pregnancy
Placental abruption (tearing of the placenta)
Planceta previa (blockage of the uterus by the placenta)
Presence of fibroid can increase the risk of miscarriage by 30% compared to women without fibroids.
4
There are many other reasons that you may be experiencing infertility, but the most common reason is problems with ovulation. If you are not ovulating, it will be impossible to get pregnant as there will be no egg to impregnate. The most common sign that you're experiencing ovulation issues is absent or irregular menstrual periods. Known causes of problems with ovulation are:
Polycystic Ovarian Syndrome (PCOS) – 

An imbalance in hormones that impedes normal ovulation.

Primary Ovarian Insufficiency (POI) – 

When the ovaries cease operating normally prior to age 40. POI is a different condition than early menopause.

Blocked Fallopian Tubes – 

Often the result of endometriosis, pelvic inflammatory disease, or surgery to address an ectopic pregnancy.

Uterine Fibroids – 

Growth of muscular tumors within the uterine walls.
If you are already suffering from fibroid infertility with other symptoms below, you probably already know that this combination can make you miserable. Along with these physical symptoms, your emotions can also be impacted by having heavy cycles. If you have fibroids, it is not unusual to experience mood swings, low energy, loss of productivity or even depression.5,6 There is no reason to live in misery trying to avoid surgery.  
Other Fibroid Symptoms:
Heavy cycles and blood clots

Heavy menstrual cycles

Painful cycles

Frequent urination due pressure on the bladder

Bloating or protruding belly

Back or leg pain

Pelvic pressure 

Pain during intercourse

Constipation 
If you experience these symptoms but have not been evaluated, you can request a consultation with our board-certified fibroid specialist. Our fibroid center not only has the top fibroid specialist in California but also the best supportive staff to make your journey a smooth experience.  With multiple offices and telemedicine this should be the first office when you search for a fibroid specialist near me.
Treatment Options for Fibroids and Infertility
The good news is that you don't need to decide between living with fibroid infertility and major surgery, as there are non-surgical options. Our fibroid specialist along with your OBGYN will determine the most appropriate treatment option for you. The goal is to treat the root cause of your fibroid pain to return your life back to normal as quick as possible. Options include:
Hormone replacement therapy
Birth control pills
Heating pads, Icepacks, Pain relievers
Warm baths or showers
UFE vs Myomectomy Treatment for Fibroid Infertility
If you have high risk fibroids that could affect your pregnancy, treatment is generally recommended. 
Removal of the fibroids, or myomectomy, may be recommended to you. A myomectomy is a surgical operation that involves making incisions into the uterus to remove the problem fibroids. This is the gold standard recommendation by OBGYNs but there are some drawbacks. Uterine incisions will leave behind scarring, this can impact the implantation of an embryo. These incisions also weaken the wall of the uterus, which makes vaginal delivery an unlikely option. Most importantly, with this type of surgery there is a 50% chance of fibroid regrowth in 10 months. This limits the window of opportunity to achieve pregnancy, otherwise additional surgeries may be performed due to fibroid regrowth. 
There is however a non-surgical solution for fibroid infertility, called the UFE procedure. This solution effectively targets all of the fibroids in a single treatment. The UFE procedure only affects the fibroids and does not impact the uterus or other reproductive organs. There is no cutting on the uterus and so the uterine muscle and lining remain intact. After one treatment there is no fibroid regrowth, which means there is a greater window of opportunity to achieve pregnancy than with surgery. 
Uterine Fibroid Embolization (UFE) for Fibroids 
UFE is a great treatment option for symptoms caused by fibroids compared to a hysterectomy or a myomectomy. With a hysterectomy, your uterus is surgically removed, and during a myomectomy, a doctor surgically removes your fibroids. UFE can help you get your life back without any scarring, surgical risk, general anesthesia or hospital stay. It can reduce the size of your fibroids, relieve your pain symptoms, and retain your fertility. Most women can return to their normal activities in two to seven days.
How is the UFE performed? 
You will receive twilight sedation to help you relax 
Our specialist numbs the skin on the wrist or groin
A tiny catheter is placed
Small beads are placed into the fibroid artery 
The catheter is removed
Band-Aid is applied 
Recover at home
Read more about the UFE procedure (click here)
We are Here to Help 
Request a consultation to meet with our fibroid specialist who will review your imaging, labs and history to determine if you are candidate for the procedure, and the outcomes you can expect. Each woman is an individual and should discuss the potential risks and benefits of fibroid embolization and other treatments with our doctor to decide which option is best for her.
Consultations are available via an online video telehealth platform or in person at one of the offices in Los Angeles, Orange County or San Diego.  Why should you choose us? Read here.
1.) Duhan, N., & Sirohiwal, D. (2010). Uterine myomas revisited. European Journal of Obstetrics Gynecology and Reproductive Biology, 152(2), 119–125.
2.) Donnez, J., & Dolmans, M. M. (2016). Uterine fibroid management: From the present to the future. Human Reproduction Update, 22(6), 665–686.
3.) Guo, X. C., & Segars, J. H. (2012). The Impact and Management of Fibroids for Fertility: an evidence-based approach. Obstetrics and Gynecology Clinics of North America, 39(4), 521–533.
4.) Hartmann, K. E., Edwards, D. R. V., Savitz, D. A., Jonsson-Funk, M. L., Wu, P., Sundermann, A. C., & Baird, D. D. (2017). Prospective Cohort Study of Uterine Fibroids and Miscarriage Risk. American Journal of Epidemiology, 186(10), 1140–1148.
5.) Zimmermann, A., Bernuit, D., Gerlinger, C., Schaefers, M., & Geppert, K. (2012). Prevalence, symptoms and management of uterine fibroids: An international internet-based survey of 21,746 women. BMC Women's Health, 12(1), 6.
6.) Gupta, S., Jose, J., & Manyonda, I. (2008). Clinical presentation of fibroids. Best Practice and Research: Clinical Obstetrics and Gynaecology, 22(4), 615–626.
The above information explains what is involved and the possible risks. It is not meant to be a substitute for informed discussion between you and your doctor but can act as a starting point for such a discussion.