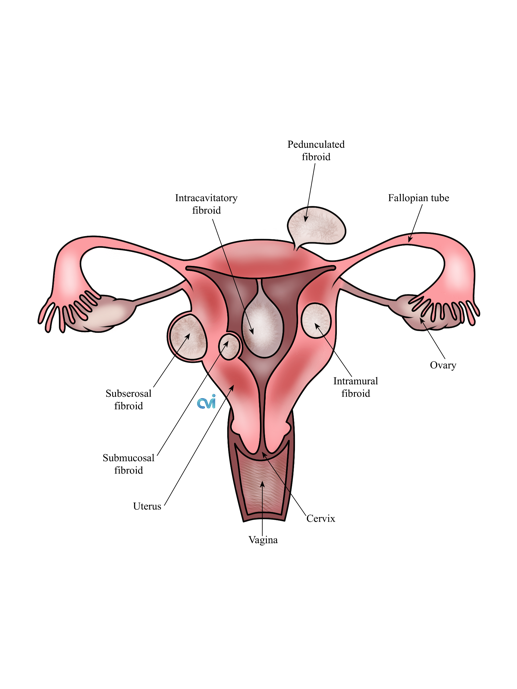 Uterine adenomyosis causes significant morbidity in women of reproductive age, typically by causing pelvic pain, excessive menstrual bleeding, and infertility.1,2 This disease involves the invasion of the endometrial glands into the muscle wall of the uterus.1,3 Typically, the treatment of uterine adenomyosis requires both symptom management and removal of the ectopic tissue.2
In this article, we discuss the latest treatment options available for uterine adenomyosis.
Adenomyosis: Biopharmaceutical and Pharmaceutical Treatments
Symptom management through medicinal drugs is the first-line approach to tackling uterine adenomyosis.2 Non-steroidal anti-inflammatory drugs (NSAIDs) are used to relieve the patient of dysmenorrhea.2 Agonists and antagonists of the gonadotropin-releasing hormone (GnRH) are other commonly used biopharmaceutical options for adenomyosis treatment.3 Other such treatment options include dienogest, danazol, and the hormone dispensing device called 'levonorgestrel-releasing intrauterine system'.2,3
Adenomyosis: Surgical Treatment Options
The standard fool-proof method to treat the disease has been hysterectomy, or the surgical removal of the patient's uterus.2,3 In fact, nearly 82% of uterine adenomyosis patients ultimately opt for hysterectomy.2 However, this approach is not useful for patients who want to preserve their fertility.2,3 Patients who are uncomfortable with extensive surgery will also want to avoid this option.3
Adenomyosis: Conservative Surgery
There are conservative surgical methods that can treat adenomyosis while preserving the patient's fertility.2 For example, patients may opt for adenomyosis lesion resection, which alleviates symptoms such as dysmenorrhea, menorrhagia and dyspareunia.3 However, it is important to note that lesion resection via laparoscopy may not be able to remove the lesion completely.3
This issue is resolved with an alternative conservative surgery called the triple-flap method. This method achieves the complete removal of the uterine adenomyosis lesion.2 Additionally, this procedure involves reconstruction of the uterus so that the patient is able to achieve pregnancy in the future.2
Yet another surgical approach, called asymmetric dissection, also involves excision of the adenomyosis lesion with reconstruction of the uterus.2 Note that in rare cases (< 0.4%), the uterus may rupture after this procedure.2
A major problem with surgical treatment of adenomyosis is the need for open surgery, which comes with infection-related risks.2 Moreover, while patients may achieve pregnancy after these procedures, there is an increased risk of life-threatening uterine rupture during pregnancy.2
Uterine Artery Embolization – Non-Surgical Alternative Adenomyosis Treatment
Uterine Artery Embolization (UAE) is a minimally invasive treatment option for uterine adenomyosis.4 This is an angiographic procedure in which the doctor injects embolic (blockage-causing) particles into the uterine arteries.2 These particles are generally made from tris-acryl gelatin (TAG) or polyvinyl alcohol (PVA) and are microns in size.4
Because of the induced blood vessel blockage, the adenomyosis lesions lose access to oxygen. As a result, the associated tissue ultimately undergoes necrosis or death, leading to a therapeutic effect. Various reports suggest that 76-83% of the patients who undergo UAE show significant improvements in their adenomyosis symptoms.2,4
Some of the UAE advantages include:
No hospital stay
No general anesthesia
No stitches
No blood loss
No risk of hysterectomy
No major scars
No surgical risks
Adenomyosis Treatments – What Are My Options?
Uterine adenomyosis can be treated through both pharmaceutical-based and surgical approaches. Symptomatic relief provided by pharmaceuticals often has to be complemented with the surgical removal of adenomyosis lesions. However, surgical approaches can be risky. UAE offers an effective, non-surgical alternative that shows promise in the treatment of uterine adenomyosis.
Why CVI?
Not all embolizations are the same. Uterine artery embolization may be offered by practitioners of varying levels of experience. An academic hospital will have doctors in training that will often place too many beads into the artery. Other practitioners may use products or suboptimal techniques that are outdated.
Our center specializes in embolizations and our staff is uniquely trained to care for these type of procedures, from the pre-op to the post-op period. Our specialist performs a high number of embolization for not only the uterus but also in other more high risk and complex organs, such as the kidney, liver, lung and others. Patients are often surprised how quick and simple the UAE procedure was for them, but this comes at the experience of our specialist who performs a variety of complex embolizations safely. This diversity of experience has resulted in our specialist to treat complex fibroid and adenomyosis cases safely and effectively.
Our specialist continually keeps up with the research to make sure that he brings the best and newest technology to our center. We are also always collecting feedback from patients and modifying how we provide care so that patients have the best level of experience.
Have More Questions?
Take a look at our FAQ page (Click here)
Contact Us Today
Request a consultation to meet with our specialist who will review your imaging, labs and history to determine if you are candidate for the procedure, and the outcomes you can expect. Each woman is an individual and should discuss the potential risks and benefits of fibroid embolization and other treatments with our doctor to decide which option is best for her.
Consultations are available via an online video telehealth platform or in person based on availability at one of the offices in Los Angeles, Orange County or San Diego. Why should you choose us? Read here.
Lacheta J. Uterine adenomyosis: pathogenesis, diagnostics, symptomatology and treatment. Ceska Gynekologie. 2019; 84(3):240-6.
Stratopoulou CA, Donnez J, Dolmans MM. Conservative management of uterine adenomyosis: medical vs. surgical approach. Journal of Clinical Medicine. 2021; 10(21):4878.
Fan Y, Zhu S, Liang X. Conservative surgical and drug therapies for adenomyosis Medicine. Reproductive Biology. 2022; 22(3):100664.
Young M, Coffey W, Mikhail LN. Uterine fibroid embolization. InStatPearls [Internet] 2021. StatPearls Publishing.